Hello, I'm
Kenneth Lee
. I am from South Korea. I'm doing business in the software field. I am married to an American wife and live in America and Korea. I have three children. Below is a picture of my youngest baby's 100th day.
I like software. It is very interesting to create a program with a fuss after I found something from my imagination. I worked with my younger brother
Chase Lee
for eight years in doing software development.
One day he asked me. "If our children want to learn computer programming, how should we teach them?"
"Well, what should we do?" I thought about it.
We learned computer programming like this.
Read and analyze simple, small, well written code.

And we try to comment on what we understand from our point of view. Annotation is a chat with comments under the code.

Try porting the analyzed code to another programming language.

Porting is like translation. So, it makes sure what we understand. If what we understand is correct, the code will work well even if it is translated into another language.

Let's improve the performance and structure of the code.

So when we get to know more things, we put them together and make a program that we want to make.
We call those "a good programming habit".
I talked about it would be better to do this as we have done before. If our children are grown up, we will teach them to do things like making games, websites, smartphone apps, and so on.
Of course I will not educate the children too early. No matter how fun we have, it may not be fun for them. Only if they want to show interest by themselves later, I'll teach them.
After talking about it, a couple of months later I wrote a column on the Internet bulletin board. It was a software-related article, and by chance, tens of thousands of people read it.
Since then, people who want to learn programming have sent me emails and messages. "How can I do good at programming?" That's it. I replied like a conversation with Chase. "Read, analyze, annotate, port well-written simple code, and if you become know more, create a new program with assembling them that you want to make."
But umm? People keep asking questions with that they understand the concept of what I've talked about, but they said they still don't know how they actually work.
So I had a discussion with Chase again. "People want to learn good programming habits, but they seem to have a hard time figuring out how to get there."
So we built the Rellat project. About Rellat, it's from Relate, which means to connect and telling a stroy.
We will do this Rellat project and tell people what good programming habits are. And we will take people to there to connect them.
The Rellat project does these.
We use the Simultaneous Collaboration Coding service to show people how to hit the code in real time and the comment.

When annotating, we explain what happens in the code by unpacking story.

Simultaneous collaboration service are like Google documents for coding.

As they watch our code and annotations, the people who get the hint write code and annotations together.

Like Internet bulletin board and SNS, write comments and exchange opinions.

If someone think of a better code, make suggestions and register. Like Wikipedia!

So if people become smarter and interested about coding, try a more complex open source project.

Give rewards and benefits to those who teach a lot of other people and contribute their projects!

Recommend projects that fit on each people's abilities.
After we thought about Rellat, we searched for the services we would use for this project. Then there were many coding collaboration services. But function No. 2 and 3 were not exist in the field yet.
So we decided to start the Rellat project using the existing service and at the same time create a service that we will implement all the functions No. 1, 2 and 3 on our own. Is it possible to develop it with just two people? Yes, because we are good at it. We're expecting about three months for the production period. And the Rellat service will be free!
This project is open source. We will also release the Rellat service creation process. People can watch the whole process and learn while they participate.
If you are interested, please come to visit our
blog
, and join our F
acebook group
. thank you.
"We will tell you a story about the good programming habit, and help you to get there."
Rellat is a technical service owned by Deduction Theory, LLC.
QnA
Is Rellat an educational program for children and students only?
It's a program for children, students, and also adults. Literally for everyone. Maybe it's educational for kids.
Rellat has a concept similar to Coding Collaboration + SNS + Wikipedia.
How does Rellat's SNS and wiki functions work?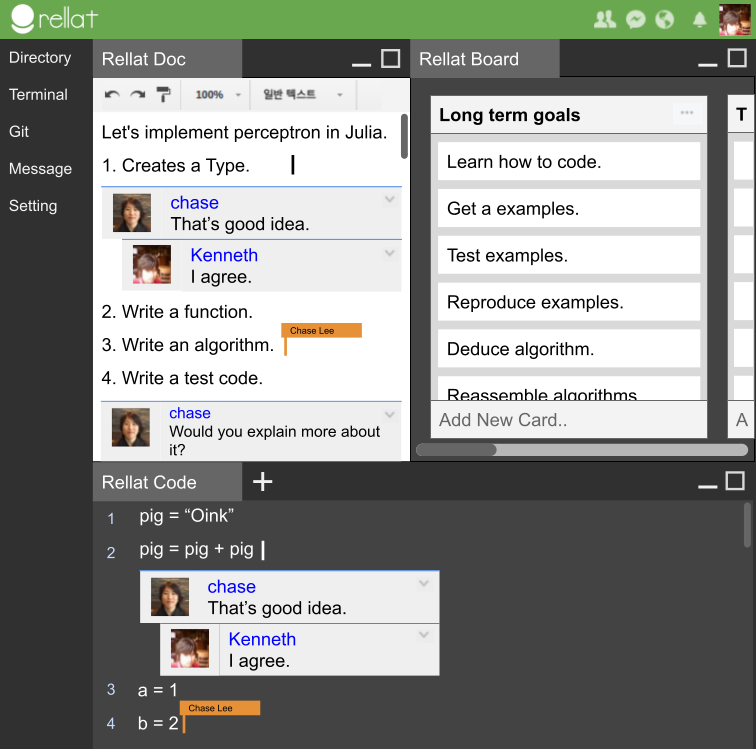 How is it? The above screen shows three tabs.
We use SNS method to plan the contents to be implemented in the project.

People can make suggestions and corrections as Wikipedia way.

This is a tab that you can use to make your plan to agile schedule.

Trello

is famous service in this field.

It can be written in SNS format, and can be suggested and modified by Wikipedia way.

This is the tab where the actual coding is done. It shows who is writing the code and who accessed in real time.

People can annotate their code with SNS.

Peope can make suggestions and corrections as Wikipedia way.
The sketch was like this above. As of January 23, 2017, the work went into technical review. We decided that we could implement it with our own abilities.
Do you see a lot of Facebook designs in the sketch? This part was made by capture and paste from actual Facebook to do a quick sketch. When we start do the actual work, we will make the design all by ourselves and replace it.
Can't we use Rellat service right now?
No, you can not use the Rellat service right now. Because we are still deveolping it.
We plan to launch it in three months. It will be April 2017.
Is it possible to develop in 3 months? Yes, I thought it was a month's work at first. But we had to do Deep Learning study as well as Rellat service development, so we allocated more of time.
While developing this service, anyone will be able to see the development process in real time. We will put it on github by open source. And we will make a video lecture and upload it on YouTube. If people would like to participate in the development of the code in real time, we will let them do.
Is there any other project besides creating the Rellat service?
Yes we have it. At the same time as creating the Rellat service, we will add some "Open Source and Open Study" projects as the same way as Rellat. I think we can call it OSOS as an abbreviation.
Rellat service production

Activities that analyze, port, and improve Deep Learning code

Using open source to create games that work on smartphones

We will continue to add more activities based on recommendations from other members of the Facebook group.
Within a few days, we will have a discussion for the recommendation about the studying subject on the Rellat Facebook group. We will listen to people's opinion, review it and give an announcement.
What is the concept of Open Study?
As I explained above, we are making Rellat service right now. However, we will also study Deep Learning, Games, and other open source projects, as much as possible using the concept of Rellat, which is Open Study way in real time.
Currently, we are developing Rellat service. However, we will make other projects are made as open as possible using the Rellat concept which is Open Study way.

Live in a real-time coding collaboration program. People can join the coding and annotating.

Anyone who has not seen the live stream will be able to watch the video again on YouTube. Make it like an online video lecture.

The SNS function, discussion and suggestion function is carried out in the Rellat facebook group.

The progress will be posted with summarizing on the blog.
Will I be able to good at the coding if I do Rellat?
It will have these kind of advantages.
Watch from the beginning that someone else is coding.

See others comment. "Oh, the other person interprets the code like that."

Suggest a better code. Better code is a code that performs better or is more logical and concise. Participate in code refactoring. Watch someone else suggest code and refactoring.

If someone have different opinions about coding, they create a tree to differentiate their version.

Manage derived versions with github.

Create another language version of the annotation.
If people repeat this activity steadily, the coding skill will be growing. But I don't lie. If they do not practice, nothing happens. Practice will surely increase their skills.
It says that there is a compensation function. How does it work?
Do you know Bitcoin? I'll make a virtual currency that mimics Bitcoin later.
After launching the Rellat service, people will be coding, commenting and doing a lot of activities there. I'm going to give virtual money in proportion to someone who has worked hard and has contributed a lot. But this won't be what I decide to do, I'm going to do it by putting the service itself into big data, machine learning, and deep learning system to evaluate the contribution.
Big Data, Machine Learning, and Deep Learning will be the judges to analyze who made more meaningful work, who worked to increase performance, who contributed to reducing errors more. Then it will be a rewarding experience for people who are working hard on open source activities.
The ultimate goal is to make it possible for developers to buy snacks in such virtual currency. Like fried Chicken! We will have an alliance with a food company that allows us to pay for fried chicken in virtual currency.
How is Rellat different from github?
If you develop the code in Rellat, it will automatically goes up to the github. Later, when lots of projects are built in Rellat, we can also function as an open source project repository.
How can I participate in the development process of Rellat?
Please join the
Rellat Facebook Group
first. We'll put you up to date on that. We will publish it as live stream in a Coding Collaboration service. If you want to participate, you can come in and code together. In order to leave a record, I will make a screen capture of the video and make it into Internet video lecture, MOOC. But it's all free. I'll upload it on YouTube. And I will post the progress on the
Rellat Blog
.
So let's get started. Let's party!
Give us opinios and feedback here.